In this week's Monday Briefing, MEI experts Randa Slim, Charles Lister, Jean-François Seznec, Alex Vatanka, Marvin G. Weinbaum, and Bilal Y. Saab provide analysis on recent and upcoming events including a mysterious fire that has disrupted Iraq's election recount, de-escalation efforts in northwestern Syria, the Saudi crown prince's upcoming visit to Russia, Iran's turn eastward following the U.S. withdrawal from the nuclear deal, a cease-fire agreement between the Taliban and the Afghan government, and questions about U.S. use of the Al Udeid airbase in a potential war with Iran.
Iraq's election recount goes up in smoke
Randa Slim, Director of the Initiative for Track II Dialogues
On Jun. 10, a mysterious fire whose causes remain unknown broke out in warehouses storing election ballots in Baghdad. Four days prior, the Iraqi cabinet had ordered a manual vote recount on the recommendations of a high commission appointed to investigate allegations of fraud and manipulation of Iraq's May 12 election results. In addition to the vote recount, the high commission recommended discontinuing the use of the electronic voting system in future elections, annulling the votes of out-of-country Iraqis and the internally displaced, and the prosecution of senior election officials.
Before the fire, the legitimacy of the election results was already being seriously challenged. With the fire, the legitimacy of the manual recount process is being undermined.
These developments will only serve to delay and complicate further the process of government formation at a time when Iraq is facing severe water and electricity shortages that require government action. In the midst of this ongoing wrangling over vote legitimacy, three of the electoral alliances—headed respectively by Muqtada al-Sadr, Ammar al-Hakim, and Iyad Allawi announced on Jun. 8 the formation of the largest parliamentary bloc. It is not clear yet how the vote recount will affect the number of parliamentary seats secured by these parties and accordingly, the size of the parliamentary bloc they just formed. The process of nominating the next prime minister must now be put on hold awaiting the results of the vote recount. Based on ongoing conversations in Baghdad among the different political entities, there are now three contenders for the post: the current prime minister, Haider al-Abadi; the head of the PMU-affiliated Conquest List, Hadi al-Ameri; and former vice president Ayad Allawi.
Idlib's fragile stability
Charles Lister, Senior Fellow
At least 44 people were killed and more than 60 wounded on Sunday, when the Syrian regime launched its heaviest series of airstrikes on Idlib province so far in 2018. The bombing came hours after jihadi fighters from Hayat Tahrir al-Sham (HTS) conducted a rare but short-lived assault on the long-besieged, Shia-majority villages of Fuah and Kafraya.
The dramatic uptick in violence raised fears for the fate of 2.5 million displaced civilians currently residing in Idlib. It also came amid concerted external efforts to enforce de-escalation in Syria's northwest, with Turkish, Russian, and Iranian armed forces controlling a total of 29 observation posts intended to deter actors from seeking an intensification of fighting. Despite tensions between Turkey and the Iran-Assad alliance, the Turkey-Russia-Iran triumvirate has appeared committed to staving off what would be a catastrophic conflict in Idlib.
HTS's role in catalyzing this latest escalation, however, underlines the challenge Turkey faces in trying to exert control over the former al-Qaeda affiliate. Since soon after its formation in January 2017, HTS's top leadership has sought to present a more politically mature face while still maintaining its extremist vision. But this has engendered significant internal tensions and invited the verbal wrath of al-Qaeda, whose leading figures have accused HTS of abandoning its faith in favor of nationalism and politics. A sizeable splinter of al-Qaeda loyalists has since formed a group in opposition to HTS—known as Tanzim Huras al-Din—and some senior HTS leaders have begun publicly criticizing HTS's "compromised" positions.
Whether HTS's recent assault on Fuah and Kafraya represented an attack ordered by its top leadership or one conducted without its permission, it underlines the fragile nature of the enforced "stability" currently in place in Idlib.
Oil, soccer, and Syria: Saudi-Russian diplomacy
Jean-François Seznec, MEI Scholar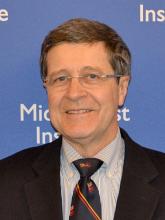 The opening game of the World Cup this week is between Russia and Saudi Arabia. Crown Prince Mohammed bin Salman and President Vladimir Putin are expected to meet on the occasion. This meeting is creating some buzz among oil traders, as it will take place a week before an OPEC meeting expected to review the production cuts put in place by Russia and Saudi Arabia.
The meeting of the two leaders could formalize a cancellation of the oil production cuts that has been in the works for some time. Indeed, world stocks of oil have declined, making demand for crude increase. Furthermore, Venezuela's output is declining rapidly and not likely to recover soon, Libya's production is unreliable, and new U.S. sanctions could limit Iran's exports substantially. Hence, Saudi Arabia and Russia could decide to abandon the cuts without causing a collapse of crude oil prices, allowing both countries to take credit for promoting stability in the oil market at no cost to themselves.
However, with positive relations growing between Moscow and Riyadh, the Saudis may also try to prod Russia away from Iran. The kingdom can argue that Russian oil companies should abide by U.S. sanctions, which Russian companies, who have little skin in the Iranian game, could accept. More difficult for the Saudis may be the price that Russia could demand in exchange for cooling its relationship with Tehran. Russia would likely want to see substantial Saudi investments in its energy industry, which have already been agreed upon in principle but not yet implemented. More importantly, Russia would want Saudi Arabia to support the Assad regime and Russia's presence in the Levant. Indeed, the Saudi perception of the Iranian threat is so high that they may accept both conditions.
An increasingly isolated Iran
Alex Vatanka, Senior Fellow
The attendance of President Hassan Rouhani at the Shanghai Cooperation Organization (SCO) summit in China had one primary goal: to push China and Russia to do what they can to preserve the 2015 nuclear deal with Iran, which the U.S. abandoned in May.
Unsurprisingly, as foreign companies increasingly leave Iran under American pressure, Rouhani's tone at the SCO gathering hinted at Iranian desperation. The U.S., he said, "considers the lack of [international] response to its unilateral withdrawal as not being costly," and that this "will have very negative consequences for the international community." In response, China vowed to form "strategic ties" with Iran, while President Vladimir Putin spoke of Iran moving from observer status to full membership in the SCO.
This plea by Tehran for a lifeline, however, is nothing new. China's promise of "strategic ties" most likely amounts to nothing but a desire to take advantage of Iran's isolation by having preferential access to the Iranian market with terms that overwhelmingly favor China. Over the course of the last two decades, since China overtook Germany as Iran's biggest trading partner, imports from China have decimated Iranian local production.
Nor is Moscow willing or able to do much for Tehran. Take Putin's offer of membership in the SCO. Iran has been kept waiting since 2005, when it became an observer state in this Eurasian organization. Others, like India and Pakistan, that expressed an interest later, are already full members. For sure, neither China nor Russia would want to see Iran entirely buckle under American pressure, but an isolated Tehran that has nowhere else to go is not the worst of scenarios from Beijing's or Moscow's point of view.
Ghani's olive branch
Marvin G. Weinbaum, Director for Afghanistan and Pakistan Studies
In an unprecedented turn of events, the Taliban have agreed to a temporary cease-fire with Afghan security forces. The surprising announcement from the Taliban came days after President Ashraf Ghani's decision to hold a unilateral cease-fire against the Taliban until the end of the Islamic holiday Eid al-Fitr. The cease-fire was announced only in the fight against the Taliban and not ISIS, al-Qaeda, and other foreign fighters waging war against the Afghan government. The U.S. forces commander and NATO allies have agreed to respect Ghani's decision.
Ghani is anxious if not desperate for progress toward a political solution to the conflict. 2018 has proven so far to be a bad year for Afghanistan. Security is deteriorating with the Taliban controlling more districts around the country than ever before in the past 17 years. Military and civilian casualties are unacceptably high. Brazen terrorist attacks on Kabul and other major cities are taking a toll psychologically, and popular expressions of discontent born of war fatigue are widely evident. The country is meanwhile plagued with soaring poverty rates compounded by drought and food shortages.
It remains to be seen whether the Taliban's decision to hold a cease-fire against the Afghan security forces for the three days of Eid celebration is a step toward reconciliation or just a brief respite. The Taliban's decision apparently came from senior leadership in Pakistan. The willingness by Taliban field commanders to honor the cease-fire will serve as a test of the Taliban's unity as an organization.
The future of Al Udeid
Bilal Y. Saab, Director of the Defense and Security Program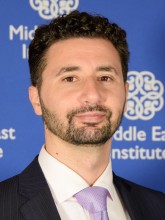 Lost in the avalanche of press reports and commentaries on the one-year anniversary of the Gulf crisis is an important statement by Doha regarding the prospects of a U.S. war against Iran.
In a speech at the 17th Asian Security Summit of the IISS Shangri-La Dialogue in Singapore on Jun. 3, Qatari minister of defense Khalid bin Mohammad al-Attiyah said that Qatar has "a lot of differences" with Iran but it does not mean that "we go and fuel a war" in the region.
It was an entirely reasonable and responsible statement by the Qatari official. A war with Iran would hurt not only Qatar, which shares a gas field with Iran, but the entire region. Yet when asked about the American military base Al Udeid, and whether it could be used to launch strikes against Iran, Attiyah's response that Qatar was not a "fan of war" raised some controversy, at least in Washington.
Many rushed to interpret Attiyah's response as a veto against using Al Udeid for any anti-Iran U.S. war plans. That would be false, however; all the Qatari diplomat did was wisely express a preference for diplomacy to resolve the crisis. Yet regardless of how one judges Attiyah's words, the reality is that should things between Tehran and Washington escalate and a clash take place, Doha would have a critical decision to make. Would it allow the U.S. Air Force to take off from Doha and bomb targets inside Iran?
If yes, and the Iranian regime survives the war, expect Tehran to punish Doha in some fashion. If no, the future of CENTCOM's headquarters in Doha would be up in the air. Talk about an impossible position for Doha.
Photo by Murtadha Sudani/Anadolu Agency/Getty Images