In this week's Monday Briefing, MEI experts Gonul Tol, Alex Vatanka, Charles Schmitz, and Robert S. Ford provide analysis on current issues including Turkey's regional diplomacy as President Erdogan is set to visit Tehran, the Iranian perspective on Turkey's role in the region, Secretary Kerry's visit to Saudi Arabia amid renewed fighting in Yemen, and ongoing attempts to broker a cease-fire deal in Syria.
Erdogan Visit to Iran: the Turkish Perspective
Gonul Tol, Director of the Center for Turkish Studies
Turkey has been carrying out intense diplomatic activity in an effort to cultivate closer cooperation with Iran. After the recent visit by Iranian Foreign Minister Mohammed Javad Zarif to Ankara, President Recep Tayyip Erdogan is reportedly traveling to Tehran this week. The diplomatic flurry comes at a time when Turkey's relations with its Western allies are tense. Turkey-U.S. relations have been strained over the extradition of Fethullah Gulen, who lives in self-exile in Pennsylvania and is accused of orchestrating the failed coup in July. Turkey is also frustrated over the E.U.'s reaction to the government's post-coup purges.
In an effort to signal to the West that Ankara has options, Turkey has been trying to rekindle its relations with Russia, which hit rock bottom after Turkey downed a Russian jet for violating its airspace in November. Efforts to cultivate closer ties with Iran has been accelerated after Erdogan's recent meeting with Putin. Turkey is pushing for a Turkey-Russia-Iran alliance, especially in Syria where Turkey has found itself marginalized.
Despite the euphoria in Turkish media about a "spring" in Turkey's relations with Russia and Iran, there remain many obstacles. Turkey might have agreed to an Assad role in a transition government, but Ankara still insists he has to leave, a stance which Russia and Iran might not be ready to accept yet. There are also limits to how far Turkey can go with its alliance with Iran without alienating its Sunni partners such as Saudi Arabia. At a time when Turkey has embarked on a policy of "earning more friends than enemies," Turkey has to walk a fine line not to shake its alliance with the Gulf countries while rekindling its relations with Iran.
 
Erdogan Visit to Iran: the Iranian Perspective
Alex Vatanka, Senior Fellow
This week's expected visit by Turkish President Recep Tayyip Erdogan to Tehran is creating significant buzz in Iranian media. Erdogan's upcoming visit is broadly assessed against two benchmarks. First, the ability of the Iranian and the Turkish sides to use the occasion to publicly formulate a plan to cooperate toward ending the Syrian civil war. Second, whether the warming in Iranian-Turkish ties will have an impact on Iran's other regional priorities.
On the Syrian question, both countries still have a long way to go. There is a flurry of suggestions in the Iranian press that the coming weeks and months will see Iranian-Turkish cooperation against ISIS in Syria. Nonetheless, the key catalyst for cooperation between Iran and Turkey in Syria is not the fight against ISIS, but a joint interest in keeping Syria's borders intact. This is above all aimed at any hint of de facto Kurdish independence in Syria. At the same time, Tehran continues to nudge Ankara to reverse its policy on the fate of President Bashar al-Assad. Iran continues to emphasize that Turkish insistence for Assad to go before a political settlement can be reached only limits Ankara's maneuverability.
The Iranians also appear to have no illusions about the latest upturn in Ankara's ties with Iran and Russia. Turkey's overall commitment to its Western orientation, including its membership in NATO, is not seen to be under serious question, which is one of the key realities that will restrain Iran's expectations from Erdogan's visit.
 
Kerry to Visit Saudi amid Renewed Yemen Fighting
Charles Schmitz, MEI Scholar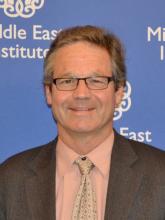 Secretary of State John Kerry's visit to Saudi Arabia this week comes amid intense fighting in Yemen following the failure of U.N.-sponsored talks in Kuwait. In early August, the Houthi-Saleh coalition in Sanaa announced the formation of a Supreme Political Council to lead the country and then convened parliament to approve the new body in a direct challenge to the legitimacy of Abdu Rabbu Mansour Hadi's government in Riyadh. In response, Saudi air raids intensified and ground reinforcements poured through the border at Wadia into the eastern desert where forces associated with Ali Mohsin al-Ahmar are trying to fight their way into Sanaa. The Saudi-backed coalition sees military progress as its only hope, but the military contest remains a stubborn stalemate.
The renewed air raids caused more civilian casualties and raised tensions again between the U.N. and the Saudis, with Médecins Sans Frontières announcing it will pull all personnel out of northern Yemen after another of its facilities was hit by Saudi bombs. The ambassadors of the 18 countries, including the United States, coordinating support for Yemen condemned the formation of the new Supreme Political Council and expressed support for the Hadi government in Riyadh, but Kerry will no doubt urge all parties to work toward a negotiated solution. Washington is caught between its support for the Saudi military campaign and its fear of the prospect of long years of war in Yemen. Kerry will likely assure the Saudis of U.S. support while pressuring the Saudis and G.C.C. allies to find a political solution to the conflict, but his chances of success are slim. The warring parties in Yemen are digging in for long years of indeterminate war.
 
Another Attempt at Syria Cease-Fire
Robert S. Ford, Senior Fellow
Secretary of State John Kerry will meet with Russian Foreign Minister Sergey Lavrov and U.N. special envoy Staffan de Mistura in Geneva August 26 for new discussions about a cessation of hostilities in Syria. Russia said it will accept a 48-hour cease-fire, up from the initial three-hour cease-fires it initially indicated it would accept. Previous such attempts have failed as Syrian government and armed opposition groups around northern Syria kept fighting.
In Aleppo, Syrian government forces and allied militias are mounting concerted efforts to re-impose the siege on opposition-held eastern Aleppo. Iranian-backed militias have reinforced Syrian government forces in the battle. Meanwhile, Syrian armed rebel factions are unlikely to split with Jabhat Fatah al-Sham, formerly the al-Qaeda-linked Jabhat al-Nusra, and rely solely on a Russian-American proposed cease-fire to ensure humanitarian access into Aleppo as the Americans hope. U.S. and U.N. credibility on humanitarian access is very low. Only if Turkey were to order the opposition armed factions to stand down would the Americans have any chance of delivering armed opposition fighters' agreement to a cessation of hostilities.
The Syria conflict is dangerously heating up. Two American jets had to warn off Syrian aircraft bombing the northeastern city of Hassakeh, where U.S. Special Forces are advising Kurdish fighters who are supposedly concentrating their efforts against ISIS, but now are also fighting to seize government-held portions of Hassakeh. Securing a durable cease-fire in order to eventually line up Syrian government forces, anti-Assad rebels and Kurdish fighters against extremists like Fatah al-Sham and ISIS looks most unlikely unless regional states like Iran, Turkey and Saudi Arabia also agree to exert pressure on their Syrian allies.