In this week's Monday Briefing, MEI experts Charles Lister, Charles Schmitz, and Alex Vatanka provide analysis on recent events including the Syrian cease-fire, Al-Qaeda losses in Yemen, and Iran's parliamentary elections.
Cease-fire Dead in Syria
Charles Lister, Resident Fellow
The cessation of hostilities no longer exists in Syria. To claim otherwise would be to ignore and give credence to the significant escalation in air strikes conducted in Syria in recent days, as well as other fighting. Almost 400 people were killed in Syria in the past week, including more than 50 when regime jets targeted two food markets in Idlib on April 19.
All eyes should now be on Aleppo, where pro-regime forces look likely to soon launch a consequential offensive. A substantial redeployment of personnel has taken place in recent days, as contingents of the Syrian army, Hezbollah and several Shiite militias have moved from the Palmyra front with ISIS to the vicinity of Aleppo. Russian artillery has been re-positioned on the city's outskirts and fresh Iranian troops have arrived on several Aleppo front-lines. Combined with the recent intensification of air strikes, we are in all likelihood watching the final preparations for a sustained siege of the city.
Despite a recent statement from the Pentagon suggesting otherwise, al-Qaeda's affiliate Jabhat al-Nusra does not "hold" Aleppo, but has a comparatively small force, dwarfed by the mainstream opposition. The city's principal opposition force is the Fatah Halab operations room, which excludes Nusra and is overwhelmingly dominated by Free Syrian Army members.
The political process is currently at a standstill. Should the regime launch its operation on Aleppo, talk of peace will be definitively over. While Russia did withdraw half of its jets, it deployed in their place advanced attack helicopters and additional artillery. This indicates a shift in Russia's operational focus, not a withdrawal. As such, Russia and Bashar al-Assad appear to have outplayed the West yet again.
 
Major Setback for AQAP in Yemen
Charles Schmitz, MEI Scholar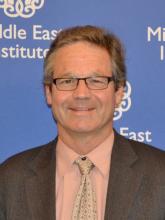 In a remarkable reversal of al-Qaeda's fortunes, the Yemeni military backed by Saudi and Emirati ground and air support drove al-Qaeda out of the major southern cities over the weekend. The campaign began a weeks ago with forces driving east from Aden into Lahj and Abyan, and was joined over the weekend by a massive campaign in the east that rooted al-Qaeda out of Mukulla, where it was firmly entrenched since April 2015. Yemeni forces marching south from the Saudi border prevented al-Qaeda from entering the interior wadi region of Hadramawt and secured key oil facilities and military bases.
Al-Qaeda clearly made a tactical decision to retreat in the face of an overwhelming show of force by the coalition, as it has done in the past only to reappear again, but the rapid retreat of al-Qaeda from the main southern cities is a major victory.
At the peace talks in Kuwait, after an initial delay of three days waiting for the Houthi-Saleh representatives to arrive, the talks have again stalled as little progress has been made. The Houthis and Ali Abdullah Saleh want an end to the air campaign while Abdu Rabbu Mansour Hadi wants to focus first on demilitarizing the Houthi militias and removing Houthi forces from the northern cities. On a positive note, the U.N. special representative to Yemen, Ismail Ould Cheikh Ahmed, emphasized that the cease-fire does seem to be gradually taking hold, though fighting and air strikes continue in the Taiz region in particular. Representatives of the two sides remain in Kuwait so further on and off negotiations are expected this week.
 
Iran's Second Round Parliamentary Elections
Alex Vatanka, Senior Fellow
The second and final round of Iran's parliamentary elections will be held this Friday. In the first round, on February 26, the reformists did better than expected and won the highest number of seats in the 290-seat parliament. The reformists are also expected to do well in the contest for the remaining 69 seats, but this will largely depend on turnout. Still, while reformist heavyweights, including former President Mohammad Khatami, are actively urging a big voter turnout, the outcome of the second round is more politically symbolic than a clue to the direction of Iranian domestic politics. Khatami and other supporters of the moderate camp, which is headed by President Hassan Rouhani, are concerned a low turnout will by default give the anti-government candidates the upper hand since the hardliners' base is much more likely to vote than reformists.
Efforts to mobilize the reformist vote is therefore chiefly aimed at preventing a clean-slate victory on April 29 by hardline candidates, as such an outcome will only serve Rouhani's detractors who will pounce on any opportunity to question the government's agenda and the popular mandate of the entire moderate camp. Rouhani and his allies cannot afford to invite attacks at a time when his signature policy—the nuclear agreement with world powers—is under intense criticism by hardliners and particularly the generals of the Islamic Revolution Guards Corps.