In this week's Monday Briefing, MEI experts Ruba Husari, Charles Lister, and Charles Schmitz provide analysis on events including OPEC's upcoming meeting to discuss production rates and a potentil freeze, Russia's bombardment of Aleppo following the collapse of the latest cease-fire, and the worsening humanitarian disaster in Yemen.
OPEC to Mull Oil Freeze
Ruba Husari, MEI Scholar
Beyond the rhetoric that accompanies every OPEC meeting—and regardless of whether the announcement following the Algiers gathering is to cut, freeze or maintain the status quo on the group's output—there are a few facts that will determine where the market is going in the short term. Those facts are that all major producers are pumping at capacity; the fourth quarter always witnesses less domestic consumption in several Mideast producers leading to a marginal increase in exports; despite the blunt statements on quotas from Iraq and Iran, the two countries are unlikely to add significant production in the short term without considerable investments which none can afford to do. One way or the other, a certain natural "freeze" is in the making.
The other major fact is that in the medium term, as forecasters from OPEC and the IEA confirmed, the earliest the market is expected to balance is in the second half of 2017. What OPEC can do until then is only manage the rhetoric on possible agreements—Russia-Saudi is one, Saudi-Iran is another—to move the oil price a fraction here or there. The reality is that the bearish market will prevail, saving a major crisis that would knock a big chunk of crude out of the market, with the occasional fluctuations till late 2017.
What will determine the reverse in the oil slump, beyond demand which no one has control over, is the reduced investments by oil companies in field development while they continue to hurt from low oil prices, and the yearly rate of decline in producing assets. Industry investments have already been reduced from $700 billion in 2014 to $400 billion in 2016, and almost all major oil companies have announced they are maintaining capital expenditure flat for the next few years.
Russia Pummels Aleppo
Charles Lister, Senior Fellow
Statements in the UN Security Council yesterday spoke volumes as to the dire state of Syria's political process. As U.S. Ambassador Samantha Power accused Russia of dishonesty, barbarity and "loading the incendiary munitions and barrel bombs onto their aircraft as Minister Lavrov spoke here (U.N.) of making peace," the UK declared that Moscow had lost all credibility after committing "war crimes" in Aleppo. In an extraordinary response, Russia's Ambassador Vitaly Churkin rebuffed the criticism and praised Bashar al-Assad for his "admirable restraint."
In reality, Syria's short-lived ceasefire has been replaced by the most deadly and destructive bombing campaign in five years of conflict, with more than 300 people reported killed by Russian and Syrian aircraft and artillery fire in Aleppo in three days. In addition to barrel bombs, airstrikes and helicopter gunship fire, Russia may now have added BETAB-500 bunker buster bombs to its attack array. Moscow's reported re-deployment of Su-25 jets—used primarily for close air support—indicates a substantial tactical and strategic shift.
Following Russia's reported two-hour air assault of an aid convoy in Aleppo, Western diplomats say all assessments of Moscow's strategic intent have gone out the window. For now, Syria's political process is dead and the conflict may be entering a dangerous new phase. Absent a substantial injection of U.S. and allied hard power, death and destruction will continue and extremism will grow like never before.
To suggest that an Assad regime victory would lead to an enforced stability in Syria is fantasy. Though fraught with risk, more must now be done to rescue what—if any—hope remains for an eventual resolution to a crisis with many menacing side effects.
Tug of War at U.N. over Yemen Humanitarian Disaster
Charles Schmitz, MEI Scholar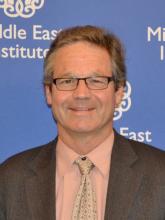 The BBC report and the anti-Saudi sentiment in some quarters of Washington are ratcheting up the pressure to stop an ill-conceived military campaign in Yemen.
As Secretary John Kerry heads to Saudi Arabia to push for a cease-fire and new negotiations, the U.N. is embroiled again in intense diplomatic wrangling over civilian casualties in Yemen. The U.N. Human Rights Council is to vote this week on a proposal submitted by the Netherlands to establish an independent mission to report on human rights abuses in Yemen. Rights groups are pushing hard for an independent U.N. investigation of civilian casualties after a recent spike in deaths, including a strike last week on a market in al-Hudaida. The Saudis and the Hadi government are pushing back, proposing that the U.N. should provide technical assistance to the Yemeni government's investigations of civilian deaths and that human rights organizations are taking Houthi reports of civilian deaths at face value.
The fight at the U.N. takes place against a backdrop of intense pressure in Congress and in the U.S. press to withhold arms sales from Saudi Arabia, and the battle over the president's veto of a bill to withdraw diplomatic immunity from Saudi officials and enable lawsuits stemming from the 9/11 attacks to move forward.
The diplomatic fight is a symptom of the much larger problem of Yemen's slipping into a humanitarian abyss amidst a political and military stalemate. The Syrian refugees are a highly visible sign of the crisis there, but in Yemen, reporting on the humanitarian toll of the war had not had much impact until a heart wrenching BBC report of children dying of starvation went viral last week. The BBC report and the anti-Saudi sentiment in some quarters of Washington are ratcheting up the pressure to stop an ill-conceived military campaign in Yemen, but as of yet, there is no sign the Yemeni parties to the conflict have any real intention of negotiating a settlement.