In this week's Monday Briefing, MEI experts Gerald Feierstein, Paul Salem, Charles Lister, Jean-François Seznec, and Jonathan M. Winer provide analysis on recent and upcoming events including the shaping of U.S.-Saudi relations, Pompeo's appointment to secretary of state, Turkey's capture of Afrin, the future of Saudi energy, and Egypt's efforts to unite the Libyan military.
Mohammed bin Salman's American charm offensive
Gerald Feierstein, Director of Gulf Affairs and Government Relations
Saudi Crown Prince Mohammed bin Salman arrives in Washington on Monday and will meet President Donald Trump and senior members of his administration over the course of the next several days. His official talks will certainly cover the core elements of shared U.S.-Saudi interests: Iran and its regional activities; the war in Yemen; the dispute with Qatar; the Israeli-Palestinian peace process; and cooperation on trade, investment and security.
But the remainder of the crown prince's nearly three-week visit to the U.S. will likely have a greater impact on the course of U.S.-Saudi relations over the coming decades than will his few days of meetings in Washington. It will be outside the capital where the crown prince's real agenda in the U.S.—no less than a fundamental reboot of American perspectives on Saudi Arabia—will succeed or not. From the financial centers in New York, to academic powerhouses in Boston, to entertainment and philanthropy on the West Coast, the crown prince's mission is to convince Americans that he is the leader of a new, vibrant, dynamic Saudi Arabia that can be a partner for the U.S. across a broad spectrum of interests.
The mission will not be easy. Anger over the Saudi role in the Yemeni civil war is driving a congressional push to end U.S. support for the Saudi campaign in Yemen. A vote on the resolution is planned for this week. Similarly, the crown prince will face questions about his country's respect for human rights and civil liberties while court battles continue over allegations of Saudi support to the 9/11 hijackers.
But away from Washington and New York, the crown prince may well find an audience more open and receptive to the idea that there is a new, more accessible Saudi Arabia in the offing.

Prepping for Pompeo
Paul Salem, Senior Vice President for Policy Research and Programs
Although Mike Pompeo still awaits Senate confirmation in April to assume his position as Secretary of State, his move to Foggy Bottom is likely to have a number of impacts.
First, although he might not "make the State Department great again," he will have a stronger voice with President Donald Trump and internationally, and he is likely to fill key appointments at the State Department in order to bolster his, and his new department's, role. Although Pompeo brings hawkish views to the position, having an empowered secretary of state might create new opportunities for robust diplomacy.
Second, Iran will be a primary focus of the new secretary of state. At a minimum, he will insist on new European pressures on Iran to limit its ballistic missile program, reduce regional intervention, and allow inspection of military sites. U.S.-European talks to this effect have been ongoing. If they succeed, Pompeo might convince the president to stay in the Iran nuclear deal, at least through the next deadline on May 12.
Third, in terms of relations with partners, his views hew closely to those of Saudi Arabia and the United Arab Emirates, as well as Israel and Egypt; he has a dimmer view of both Qatar and Turkey. He might push for a resolution of the Gulf Cooperation Council dispute by raising pressure on Qatar; and will have to grapple with an already very bad U.S.-Turkey relationship. He will inherit a moribund Israel-Palestine peace process, especially after the Jerusalem decision late last year, and will be hard-pressed to make any progress there.
But as tensions heat up in Syria and Lebanon, especially between Israel and Iran, his tenure might be overwhelmed by fast-moving military events before he has any chance at diplomacy—robust or otherwise.

The fall of Afrin
Charles Lister, Senior Fellow
Turkey and allied Syrian opposition forces captured the northern Syrian city of Afrin on Sunday, dealing a significant blow to the territorial and political ambitions of the Kurdish militia group known as the People's Defense Units, or YPG. After three years of close military cooperation with the United States in countering ISIS in Syria, the YPG had been widely celebrated as a formidable force, but its defense of Afrin district—encompassing the city and hundreds of villages and towns—collapsed in less than two months. Although the YPG has undoubtedly melted away in order to revert to a guerrilla insurgency, its substantial losses in Afrin reveal the strategic indispensability of American close air support.
That the U.S. did nothing in public to protect its YPG and Syrian Democratic Forces (SDF) partners in Afrin underlined a long-inevitable contradiction in U.S. policy in Syria. A Turkish assault on YPG/SDF positions outside of America's zone of influence was always inevitable and its initiation has placed a severe strain on U.S.-SDF relations. That explains why Russia so clearly authorized Turkey's military intervention in Afrin—it clearly hoped to weaken the one mechanism that enables a continued American military presence in Syria.
Turkey appears to have been energized by its success in Afrin, having now indicated an intent to recapture Arab-majority towns controlled by the YPG in areas closer to American positions in northern Aleppo. President Recep Tayyip Erdogan has also threatened action against the YPG's Kurdistan Workers Party (PKK) brethren in neighboring Iraq. Ankara is almost certain to pursue the former objective, but its broader messaging appears to be directed at securing a stronger negotiating position within its immediate neighborhood.

The future of Saudi energy
Jean-François Seznec, MEI Scholar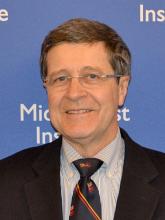 The yearly increase in world demand for crude oil is now being supplied in large part by U.S. shale oil producers, while traditional producers, mainly Saudi Arabia and Russia, limit their production, thereby keeping oil markets relatively stable. The Saudis know very well that the U.S. government cannot influence U.S. production, which is totally directed by market forces. Thus, Saudi Crown Prince Mohammed bin Salman's visit to the U.S. may cover some energy issues but none directly related to the competition between U.S. shale oil and Saudi oil.
On the other hand, Saudi Arabia's leaders may want to discuss shale gas, a market in which U.S. companies dominate. Saudi Arabia has substantial shale gas reserves that it needs to develop, but does not have the technologies necessary to do so, including those that require minimal amounts of water—a must for the kingdom.
U.S. firms may be a bit wary of working with the Saudis. Indeed, in the 1990s, before the days of shale gas, Saudi Arabia had started large joint ventures with U.S. firms to find conventional gas. However, no gas was found and all the joint ventures ended in failure
In the present era of shale gas predominance, one can expect the Saudis to discuss joint ventures with U.S. shale gas producers. Counterintuitively, there may be a role reversal where, instead of U.S. firms investing in energy plays in the Middle East, the Saudis may want to invest in the shale gas industry in the U.S. This will allow them to learn about the technologies needed to develop their own reserves in joint ventures or even alone, as they are doing now in oil. This would require negotiation with U.S. companies, but it would also require the blessing of the U.S. federal and state governments.

Egypt continues efforts to unite Libyan military
Jonathan M. Winer, MEI Scholar
This week, military representatives of General Khalifa Hiftar's Libyan National Army and the U.N.-backed Government of National Accord meet in Cairo for a sixth round of Egyptian-sponsored talks to unite Libya's army.
Each side includes people who served in Libya's army under former president Muammar al-Qaddafi. Talks have taken place since September 2016, when the parties first met in Tunis, supported by the U.S., Italy, United Arab Emirates and Egypt.
One big question is who would be included in a unified force. Tribal and regional differences are one thing, ideology is another. Neither Egypt nor the UAE want the army to include forces aligned with the Muslim Brotherhood.
Relevant militia forces span the spectrum on ideological matters, and labels aren't neat. In Tripoli, 70 percent of the 1,500-person RADA Special Deterrence Forces led by Abdul Raouf Kara, which control Mitiga Airport, served in the police under Qaddafi. Kara himself is typically described as a hard-line Salafist, but has ruthlessly eliminated ISIS fighters in areas he controls. And there has been reporting that his representatives have been in ongoing talks with those of General Hiftar. Other forces are happy to unite in principle, but have issues with General Hiftar being in charge.
In practice, a unified army must incorporate all professionals who support secular government, under leadership that makes essentially all Libyans feel secure, such as some form of council under civilian oversight. The military talks are positive, but success likely requires an equally successful political track, too.