In this week's Monday Briefing, MEI experts Robert S. Ford, Charles Schmitz, Gonul Tol, and Mabrouka M'Barek provide analysis on recent events including Manbij offensive, Yemen talks, Israel-Turkey rapprochement, and Tunisia national unity government.
Ousting ISIS from Manbij
Robert S. Ford, Senior Fellow
The cessation of hostilities has largely dropped by the wayside amid fighting in northern Syria and Aleppo, as well as suburban Damascus. U.S.-backed Syrian forces are gaining against the Manbij pocket, the narrow territory that ISIS still controls along the Turkish border connecting ISIS to supporters in Turkey and beyond. U.S. officials stress that the fighters trying to recapture Manbij are mostly Arabs, a nod to Turkey that objects to the Syrian Kurdish Y.P.G. militia's drive to take create a contiguous Syrian Kurdish region along the Turkish border.
The Y.P.G. is deeply involved in Manbij; one of its top commanders died there last week. Still, Ankara accepted assurances that the Y.P.G. will help take Manbij, but not control it. Turkey's meek acceptance shows its inability to steer battlefield events in northern Syria now. The steady reduction of the area controlled by its preferred Syrian Arab allies in the Azaz pocket just west of the Manbij pocket further proves Turkey's weakness.
After Manbij falls, the Y.P.G.—to create that contiguous Syrian Kurdish region—will ponder sustained attacks westward past Manbij towards Marea and Azaz, the last towns in northern Aleppo held by Turkey's faltering Syrian Arab allies. Such an advance would present Turkey and its Syrian opposition allies a fait accompli. The weakening Syrian opposition in Aleppo province would have to accept the Y.P.G. demand for Syrian Kurdish regional autonomy or face a sustained two-front battle to keep its part of Aleppo in the face of the Y.P.G., as well as Syrian government forces. ISIS, the Syrian opposition and Turkey are all losing in northern Syria.
Little Progress in Yemen Talks
Charles Schmitz, MEI Scholar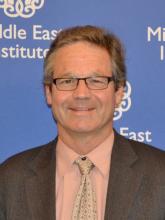 The U.N. special negotiator for Yemen, Ould Cheikh Ahmed, is still optimistic about the prospect of a settlement in the talks in Kuwait and insists that some agreement between the warring parties is close, but he really has nothing solid to point to as proof. Talks on a prisoner exchange raised expectations that something concrete might happen before Ramadan began today, but nothing emerged.
The talks have continued for almost two months now without real progress. The basic disagreement is over implementation of a political settlement. The Saudi-backed side of Abdu Rabbu Mansour Hadi wants the Houthi/Saleh forces to surrender their weapons, withdraw from the cities, and turn over government institutions. The Houthi/Saleh want to construct a compromise government to oversee the implementation of a security plan and preparations for eventual elections.
The stalemate on the battlefield stymies any real movement at the negotiating table. In the early spring, Saudi-backed forces were making progress and appeared to be headed for Sanaa, but those efforts stalled. In fact, Houthi/Saleh have retaken territory in the south and west of the country. In response, reports over the weekend indicated big reinforcements were entering Yemen from Saudi Arabia.
The teetering peace in the north led the Houthi principle negotiator at the Kuwait talks, Abdul Salam, to "take advantage of the weekend" to visit Dhahran al-Janoub in Saudi Arabia, apparently to patch up the informal truce. But his visit might also indicate broader direct talks between the Houthis and the Saudis. In a shift, the Saudi foreign minister said that the Houthis are Saudi neighbors and can be negotiated with, while the real war, he said, is against al-Qaeda, making Hadi less important to the Saudis. The international backers of the peace talks have become concerned by the lack of progress and are putting pressure on all sides to compromise, particularly Hadi.
Turkey-Israel Near Rapprochement
Gonul Tol, Director of the Center for Turkish Studies
An Israeli minister close to Prime Minister Benjamin Netanyahu said last week that nearly all outstanding issues for a reconciliation agreement with Turkey had been finalized by both sides.
Turkey has set three conditions to return to normal relations with Israel: an official apology for the attack; securing compensation for the families of the flotilla victims; and lifting the blockade on the Gaza Strip. Israel, meanwhile, has demanded that Turkey end its support for Hamas and expel Hamas officials operating out of Turkey. Israel has so far met two of the three conditions Turkey has set, but Turkey's relationship with Hamas and ending the blockade on Gaza have remained sticking points in negotiations.
Nevertheless, both parties are willing to move forward on the normalization deal. Turkey has found itself increasingly marginalized in the region and vulnerable to Russia's energy policy after bilateral ties soured over Ankara's shooting down of a Russian jet that violated Turkish airspace. Rapprochement with Israel could help Ankara break its regional isolation and decrease its dependency on Russian gas. Israel is also looking to export gas reserves.
A more likely scenario is a middle ground where Israel allows Turkey to be engaged in housing and infrastructure projects in Gaza and anchor a power-generating vessel offshore to help resolve the territory's acute electricity shortage. In return, Israel might drop its demand for the removal of Hamas operators in Turkey. This middle ground might still pose challenges for Israel, as Turkish involvement in Gaza is sure to strengthen Hamas and complicate Israel's relations with Egypt that has been opposed to Ankara's increasing leverage in Gaza.
Tunisian Call for National Unity Government
Mabrouka M'Barek, MEI Scholar
In an address to the nation last week, Tunisian President Beji Caid Essebsi called for the formation of a government of national unity, which would include the current governmental coalition, the main labor union, the employers' organization representing industrial, trade and craft sectors, and some opposition parties.
Essebsi hopes that by including the labor union in a government of national unity, the government will be able to pass painful reforms, which include a cut to wages. For Essebsi, Tunisia is losing resources from the extractive sector because of continued protests on social and economic policies, which he believes has constrained the government from taking more loans in foreign currencies. Essebsi pointed out that the state budget for civil servant wages is unsustainably increasing, despite the drain on resources. In its latest letter of intention to the I.M.F., the government aimed to reduce "the wage bill to the equivalent of 12.7 percent of GDP by 2019."
However, this is not the unique motivation for a national unity government. The president's objective is also to wash out his government's lack of results by deflecting to the general political and economic situation. In reality, Essebsi knows that with the local election bill about to passing the parliament, his party, Nidaa Tounes, and the current coalition will have a hard time competing in the upcoming local elections with an opposition that has been actively canvassing disenchanted constituencies.